100th Anniversary of the Christmas Truce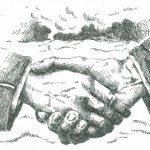 I have put up a new page displaying the book, reviews, and some of the pictures. Also a video featuring Johnny Cash with the story of the truce in song.  Here Is the link for the page Oh Holy Night: The Peace of 1914.
You will note the choice of vendors, Amazon or Evangel.  
At Evangel, there are two options, single copies or a special offer of 3 books for 15 dollars.
It is much better for the author if you purchase from Evangel.  When Amazon only requests one book at a time I lose money on every book.  Their last purchase order was for four books. The postage for me to send them to Amazon was over a dollar a book. With the cost of printing, I just break even at that rate.